From Golf Digest: https://www.golfdigest.com/
It's dinnertime in Jupiter, Fla., and 1000 North is the place to be. The restaurant opened in 2018 and immediately became a nexus of German engineering, Italian tailoring and South Beach plastic surgery. Jutting into the Loxahatchee River is a private dock so that diners can arrive in style; Dustin Johnson has been known to cruise up in his 82-foot Viking. (The lounge upstairs, available only to the 300 members who pay $4,000 to join and $4,000 in annual dues, carries Fireball cinnamon whisky to whet the whistle of Johnson and his glamorous fiancee, Paulina Gretzky.)
Michael Jordan gets a lot of attention for being a part owner, but the man behind the man is Ira Fenton, a low-key powerbroker who helped finance Jack Nicklaus' The Bear's Club across town. That private golf club has about three dozen elite tour pros as members, and its popularity helped inspire 1000 NORTH when Fenton sought to replicate the clubby atmosphere and first-rate service of The Bear's Club. "If you put together a tournament with just our restaurant's investors, you'd have a very strong field," Fenton said recently over a decadent meal, interrupting himself often to greet by name the servers and hosts, all of whom had the fresh-scrubbed good looks of Abercrombie models. Those investors include Johnson, Ernie Els, Brooks Koepka, Justin Thomas, Rickie Fowler, Luke Donald, Keegan Bradley and Camilo Villegas. "It's a fun thing to be a part of," Bradley says, "and it guarantees you can get a table on a Friday night, which is getting harder these days."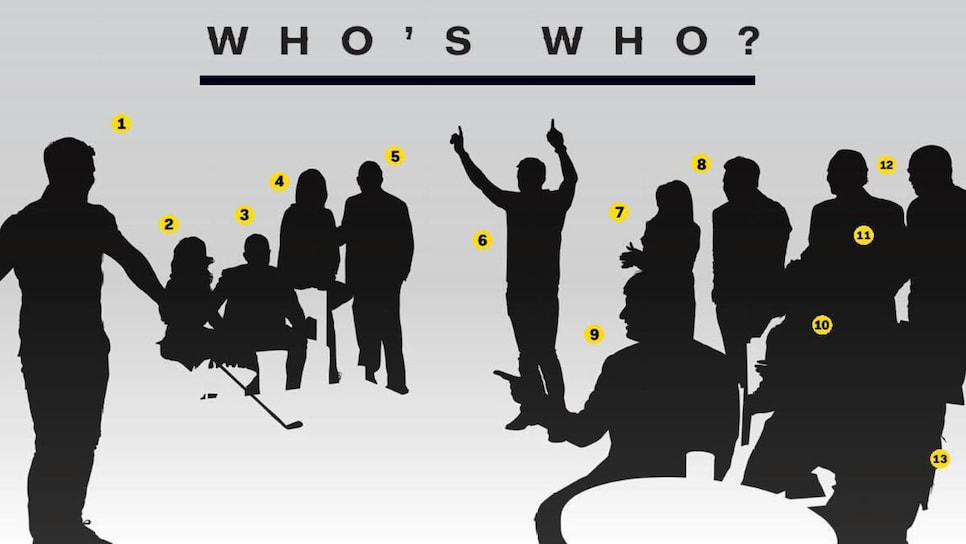 1. Brooks Koepka, 2. Debbie Terlato, 3. Bill Terlato, 4. Sherrye Fenton, 5. Ira Fenton, 6. Rory McIlroy, 7. Padma Mantena, 8. Raj Mantena, 9. Ernie Els, 10. Liezl Els, 11. Tucker Frederickson, 12. Ahmad Rashad, 13. Jena Sims
Jupiter's popularity has solidified its standing as the center of the golf universe. Educated guesses place the number of pro golfers of varying status in the area at five dozen. Set to join them is the consummate California dude, Phil Mickelson, who bought a place on Jupiter Island, where he and wife Amy will feather their empty nest (and enjoy the benefits of no state income tax, which Phil has long desired).
When Jordan wanted to create his private 18-hole fiefdom, the Jupiter area was the only place he considered. The result is Grove XXIII, which opened in 2019 and is already the gathering spot for stars from various sports who indulge in jocular money games and other rituals of male bonding. Grove is in horse country about 15 miles from The Bear's Club, farther north than was once considered fashionable. But its mystique helped inspire Steve Ross, the owner of the Miami Dolphins, to purchase 1,200 nearby acres, on which he is reputedly planning to build three private courses. It's a good bet, given that every club in town has a long waiting list, and in the COVID era, well-heeled northerners continue to arrive in droves. The Wall Street Journal reported that Palm Beach, half an hour to the south, has had 35 homes sell for at least $30 million since March 2020, with two eclipsing $100 million. Jupiter, which has not one but three tiki bars clustered around its iconic lighthouse, is beachier than Palm Beach, which Luke Donald describes as "more old money, more swanky, more stuffy." But with almost no available inventory, the high-end home prices around Jupiter have similarly spiked; Greg Norman sold Tranquility, his eight-acre spread on Jupiter Island, for $55 million. (The season in South Florida used to be October through April, but many new arrivals are staying year-round, beating the summer heat by playing golf early in the morning.)
North Palm Beach is home to venerable Seminole, but that's not a place where tour players hang out. Old-timers Ray Floyd and Nick Price are the only pro golfers among the membership. In Jupiter, The Bear's Club has long been a popular spot, with many tour pros living on the premises. In 2017, Rory McIlroy bought Ernie Els' 13,000-square-foot house for low eight figures and then did an extensive remodel.
The practice facility at The Bear's Club is legendary, with each pro enjoying buckets of his or her preferred model of golf ball, which are meticulously sorted by the staff. Nicklaus recently reworked the par-3 course. "You can tell when a big tournament is coming because the range is packed," says Jessica Korda, one of a dozen or so LPGA Tour players who make their home around Jupiter and often practice side by side with the guys. If The Bear's Club is where players go to work on their game, Medalist is the place to test themselves against each other. DJ and Rickie are regulars, and it was Tiger Woods' preferred place before his car crash in 2021. The Grove has a spectacular practice facility, but it's more about the hang. The sleek clubhouse has a dizzying number of TVs, and the real ballers drink Cincoro Extra Añejo from Jordan's personal tequila company. A 750-millileter bottle retails for $1,800. (Mickelson, the game's preeminent raconteur, has already joined the Grove.) Those are the big three among the Jupiter area's private clubs, but there are a bunch of other notable spots: the swank Floridian, which is more to the north but still popular with tour players; classy Old Palm, which has traditionally been the landing spot for European Tour expats; secluded McArthur, which is joining the building frenzy with a new second course, designed by Bill Coore and Ben Crenshaw; and Jupiter Hills, a 1970 George Fazio design that, like many Jupiter residents of a certain age, has had a lot of work done.
All of these courses are private, which means Jupiter will never be a destination for golf tourists. But it is a kind of fantasy camp for the surgeons and stockbrokers at the clubs who get to rub elbows with golf greatness. "If some 18-handicapper asks me how to play a certain shot, I'm always happy to help them," Johnson says. "You never know what kind of advice they'll be able to give you in their profession." Plenty of these deep-pocketed duffers like to engage tour players in money games, but details are always scarce. "If there were any great stories of guys playing for huge money—and I'm not saying there are—you wouldn't hear about them," Bradley says. "There's kind of an honor system to keep things private."
For tour pros, Jupiter is the ultimate playground. "I can't live anywhere else now," says Bradley, a Jup resident for more than a decade. "The courses are so good, and the practice facilities are the best in the world. I can show up any day of the week to a handful of courses and get a game against tour winners, major-championship winners, future Hall of Famers. Obviously, the weather is perfect, and the lifestyle is great. But if the goal is to keep my game razor sharp when I'm home, I can't get done what I need to get done anywhere else in the world."
If one house symbolizes the glamour and impetuousness of #JupLife, it is a sleek bit of American Dream on River Drive, with a backyard that spills out onto the Loxahatchee River and a private dock. Bradley bought the house after winning the 2011 PGA Championship and later sold it to Brooks Koepka, who had U.S. Open champ Graeme McDowell's wife, Kristin, an interior decorator, redo the inside in a style that could be called macho chic: lots of stone and metal with pastel touches. When I visited in late 2017, the garage was a riot of kayaks and stand-up paddle boards, and the walk-in wine room was a nice spot for Koepka's glittering U.S. Open trophy. As he continued to pile up major-championship victories, Koepka moved to a gaudier place on a bigger, more private lot, selling the house to yet another tour mainstay, Daniel Berger. After winning at Colonial last year, Berger bought a Bahama 41 speedboat to park out back. (What Teslas are to Pebble Beach, the Bahama 41 is to Jupiter.)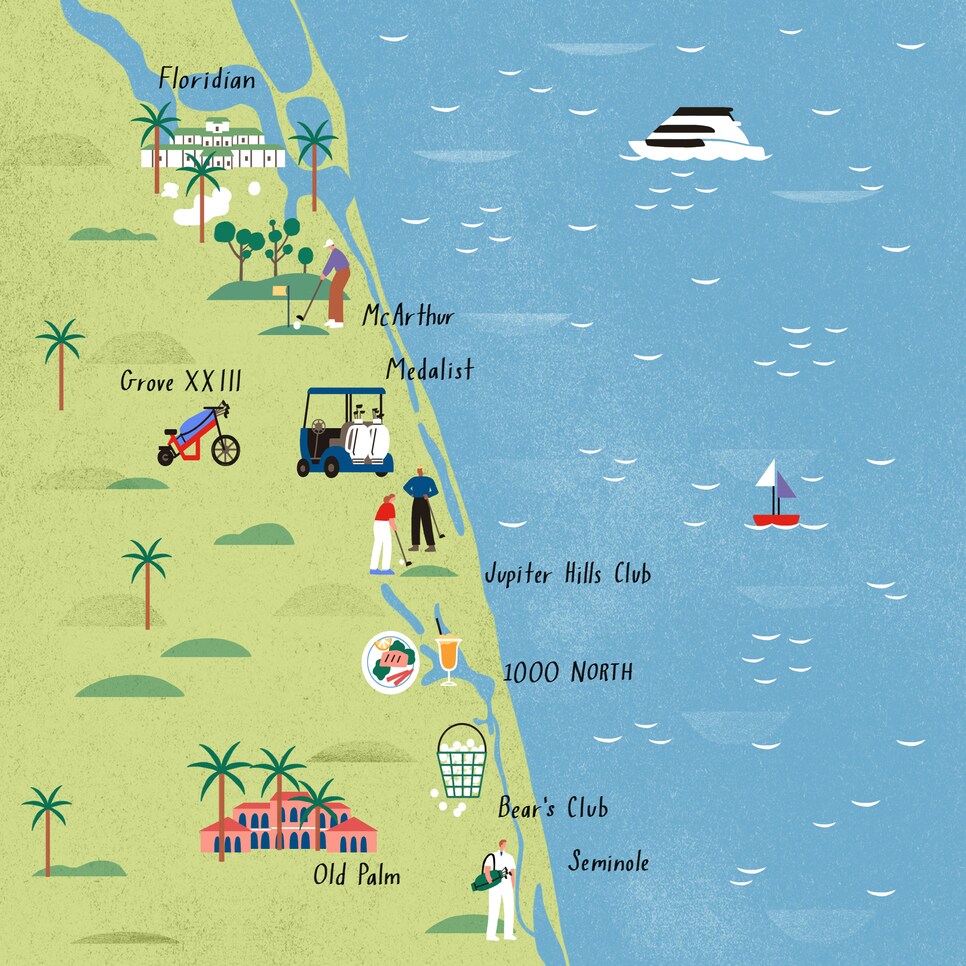 Illustration by Josie Portillo
PRO GOLF'S TROPICAL PLAYGROUND
Jupiter, Florida, the de facto capital of professional golf, is 90 miles north of Miami, 155 miles southeast of Orlando and about 55 nautical miles from the Bahamas. There are 16 golf courses in Jupiter and another 78 within 20 miles of the town, the vast majority of them private. But for the 60-plus members of the PGA Tour and LPGA Tour who call Jupiter home, the eight golf clubs that really matter are (from top) Floridian, McArthur, Medalist, Grove XXIII, Jupiter Hills Club, Bear's Club, Seminole and Old Palm. The restaurant, 1000 NORTH, which opened in 2018 and counts Michael Jordan as part owner, has emerged as a gathering spot for golf's elite. Several PGA Tour players are investors, members or both.
If Berger can cash a few more oversize checks, he might be able to cross the river to the west side, where Pennock Point Road is the most prized address. That's where Fowler and Justin Thomas live. Johnson lived there for a long stretch, too, while he was building a modernist Xanadu farther up the river. "It's a small world," Johnson once told me. "I'll be in the backyard chipping, and Rickie will cruise by on a paddle board. Or I'll be in the boat and see JT or [longtime tour player Steve] Marino messing around at their place. You just kind of wave and keep going. You see them around town sometimes doing normal things. I'll say, 'Hey.' We don't talk about golf or anything like that." (As cliquey as it can be, not every pro manages to fit in; Matthew Wolff recently decamped from Jupiter, buying a house in his old college town of Stillwater, Okla. "There's not a lot of people my age down there," says Wolff, 22.)
The biggest and most extravagant golfer's house in the area is Woods' 12-acre compound on Jupiter Island, extending from the Intercoastal all the way to the Atlantic, with a famed backyard practice area. His arrival is a key moment on Jupiter's timeline, which begins in 1966 when Jack Nicklaus—fleeing Ohio's harsh winters and lured by the bountiful deep-sea fishing—settled at Lost Tree Club in what is now considered North Palm Beach. That immediately made South Florida a thing. (Cary Middlecoff soon moved down the street.) In the early 1990s, the second wave of big-time golfers arrived, led by Greg Norman and Nick Price, who took turns as the game's dominant forces of that era. Norman built a macho club in his image, Medalist, though he hasn't come around as much since disputes about course alterations and losing control of the board. Price built McArthur, which reflects his more refined sensibilities.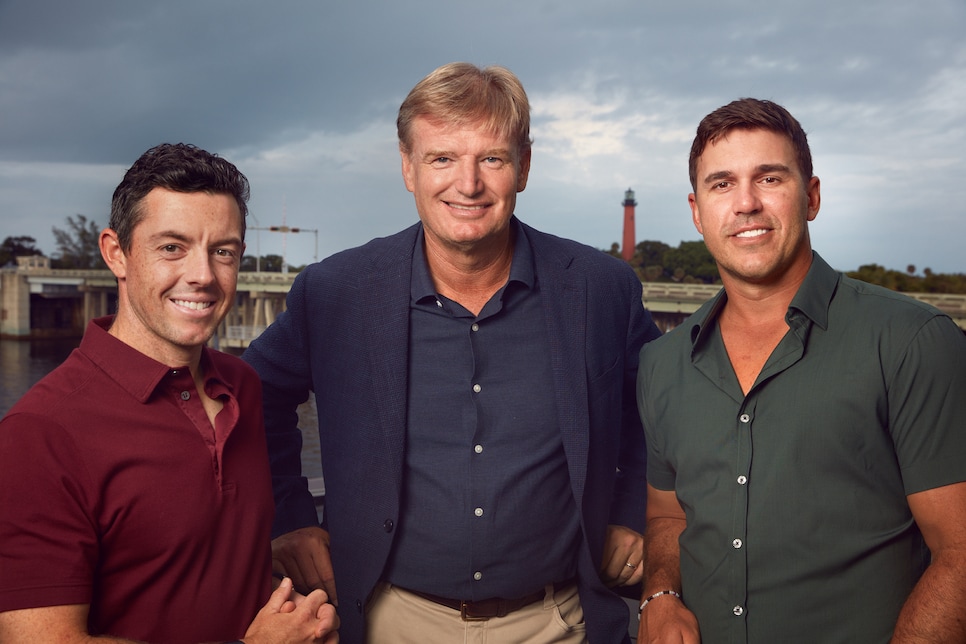 BOOMTOWN Rory McIlroy, Ernie Els and Brooks Koepka are among the dozens of top tour players attracted to the Jup lifestyle.
Jesper Parnevik settled in the area, luring a cadre of fellow Swedes, but Orlando remained the golf world's center of gravity, especially after Woods established residency upon turning pro in 1996. Orlando's hegemony was cemented in the popular imagination by the annual Tavistock Cup, a monument to excess that pitted the glittering names from two of O-town's warring golf clubs, Isleworth and Lake Nona. Landlocked and touristy, Orlando had only one real appeal: an international airport. But in 1999, the tour's new TV contract kicked in, having been negotiated in the wake of Woods' game-changing Masters victory. Previously unimaginable riches flowed into the sport. Private jets that had once been the province of only the biggest stars were suddenly within reach of the tour's middle class. (In 1998, Warren Buffett's Berkshire Hathaway acquired NetJets and quickly reshaped the private-aviation industry, and the company would sign three dozen players as "ambassadors.") With tour pros no longer tethered to the Orlando airport, they began migrating toward the ocean, like salmon. (Those who have stayed in Orlando skew European because they can fly nonstop to the Continent on commercial airlines given that going private across the ocean is a big ticket.) The jet center at tiny Palm Beach airport (PBI) quickly became a de facto PGA Tour clubhouse, and when the cost of a private jet is split among five or six golfers, it becomes almost defensible.
Woods famously wooed one of Parnevik's nannies, a cosmopolitan law student (and, yes, former bikini model) named Elin Nordegren, who made it clear she had zero interest in living in Orlando. In 2006—two years after the splashy wedding—Tiger paid $40 million for his sprawling estate. He tore down the existing structures and built his dream house, complete with two swimming pools, a home gym and an oxygen therapy room. (By the time construction was finished so, too, was Woods' marriage.) Seeking to put his branded stamp on the neighborhood, he opened his restaurant in 2015. The Woods Jupiter aspires to be a high-brow sports bar, though the prices suggest Peter Luger; the 10-ounce filet mignon is $53. Unlike the sleekly dressed staff at 1000 NORTH, the waitresses and bartenders at The Woods are a scrappy bunch who look like they have lived a little. In 2017, Tiger became romantically involved with the restaurant manager, Erica Herman, and they have settled into a contented domesticity.
Tiger also nabbed professional golf 's biggest boat, a 155-footer he named Privacy. As the name suggests, Woods uses his yacht to get away from it all. The water is at the center of #JupLife. Many of the restaurants have private docks, and reservations are encouraged—for the boats more than the humans. Johnson and Donald are among a group of enthusiastic chasers of marlin, sailfish and mahi. "Berger thinks he's good, but when we've gone out, he's caught nothing, so I'll believe it when I see it," woofs Donald.
Of course, some of Berger's best work comes without a rod in hand when he is "boating"—the local parlance for hanging out at sand bars with hot women and cold beverages. (The most popular sand bar juts off Jupiter Island and is known as Tiger Beach because Woods' house is about 1,000 feet away, though he is never glimpsed behind the towering hedges.) The popular imagination of Jupiter as a sexy, sudsy place comes largely from the social media feeds of three extremely photogenic and often scantily clad influencers: Gretzky, Jena Sims (Koepka's fiancé) and Tori Slater (Berger's girlfriend). Their beaus make occasional cameos in their posts, offering stiff dance moves, doing backflips off their boats or, in Koepka's case, wearing sneakers and an untucked t-shirt on even the fanciest occasions. It's hard to argue with Donald, who says, "This place is a bit like Fantasyland."
Like any town, Jupiter is cleaved by its haves and have-nots. The area's young, aspiring pros are not investors in 1000 NORTH but regulars at the Square Grouper, a tiki joint with leathery dudes behind the bar pouring Creamsicles, which are made with whipped-cream vodka, orange juice and cream. They taste like your childhood, plus a dash of regret. The mini-tour rabbits can't afford (and are not invited) to join the glamorous clubs, so they congregate at Abacoa, Bear Lakes, Ironhorse, Seagate and other less-fancy joints that will cut them a deal on mini-memberships. The cost of living is so high that sharing apartments is common, though in a new twist on chain migration, players who make it to the big leagues will sometimes lend a hand; when Dominic Bozzelli made a better life for himself on the PGA Tour, he allowed his friend Gavin Hall to live in his house for two years, rent-free. "He knows how hard it is to make it and was nice enough to help me out," says Hall, 26, a Texas grad who is chasing it on the Forme Tour, a Florida-based micro-mini that sends its top-five point earners to the Korn Ferry Tour. He could live somewhere cheaper and less glamorous, such as Jacksonville, but like the hedge-fund managers swelling the waiting lists at Jupiter's private golf clubs, Hall wants to be close to the action.
"Every day I'm around players from the Challenge Tour, Canadian Tour, Latinóamerica, Korn Ferry," he says. "All of these guys are busting their butts to get better—it's motivating. Every now and then you get invited to play with established [PGA] Tour guys. To see up close how those guys operate, how they hit the ball, how they carry themselves, that's invaluable."
The Minor League Golf Tour hosts no-frills tournaments throughout South Florida, and it recently visited the Country Club of Coral Springs, an easy drive down I-95 from Jupiter. Thirty players kicked in $495 apiece to compete in (and fund) the three-day event. Only 12 made the cut and therefore earned a paycheck. The winner, Patrick Allgeier, went 19 under par to take home $2,200. Rohan Ramnath finished 11th, good for $480—a net loss even before factoring in gas money.
"It's an interesting situation, to be surrounded by so much wealth and so many great golf courses and famous golfers while a lot of us are just struggling to get by," says Ramnath, who graduated from Harvard with a degree in applied mathematics. "It's a pretty stark illustration of how much your life can change if you shoot better scores." There are trophies to be won and history to be made, but nowadays there is little doubt how the spoils would be spent.
Says Ramnath,"A big house on the water in Jupiter, that's definitely the dream."
Read original article here: https://www.golfdigest.com/story/behind-the-scenes-jupiter-florida-brooks-koepka-rory-mcilroy-ernie-els